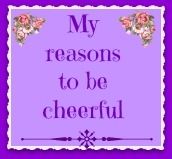 The hop is still being hosted by the lovely Jo at Ojo's World and she is doing a great job this month at encouraging us all to share the happiness posts. So here are mine for this week:
We finally got a South Lakes Parkrun and typically it rained! But it was amazing to be part of history in the making at a debut run and my son was amazing. Hopefully once he starts his fell running training at the Helm Hill Runners he will learn how to run faster and better - leaving me in his wake..
My children and I were all very happy that Dr Who featured at the Comic Arts Festival this weekend. My son had 2 visits as his school went during the week and he travelled back in time to see the dinosaurs being wiped out apparently! I was just chuffed to get in a T.A.R.D.I.S.:
3) School Trips
My daughter apparently had a pretty amazing time on her school trip to York. Its such an amazing city packed with so much history. Think I may have to go there without my children as I have to wait for my son to have done the year 6 trip before we can go as a family!
To know that my children are doing well academically at school is reassuring. My son has transitioned well into juniors from infants and so far is doing very well. In her last year at primary my daughter is well on track for good SATs results too.
Obviously not a lot gets done at the minute but I have been working on building a bookcase to house my increasing collection of teaching books:
What are your reasons to be cheerful?