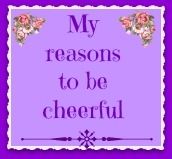 The super duper Jo is still the host for the blog hop this month. Make her day and pop over and say hello! As for me I have been smiling for most of the last week as 2 out of the 2 of us have had our birthdays. So here are the reasons to smile:
Apart from the fact I am a year older I love having a birthday! I was spoiled with breakfast in bed and lots of cards and some lovely gifts. Some I will use towards my student bits but I did treat myself to a new sewing box as mine was broken:
The day after my birthday my daughter turned 11. It was an odd day for me as I only saw her for 10 minutes at breakfast time but I was able to watch her open some cards and presents:
She then headed off on a school residential and only gets home on Friday!
3) Games night
Now the nights are drawing in and its getting dark before bedtime I have reintroduced Sunday games night. To make sure both children were happy I played with each of them in turn at a game of their choice whilst their sibling had a good long soak in the bath. This is the game my son chose:
His sister and I played cribbage and I was trounched!
I am sure there were plenty of other reasons to be cheerful but sticking to my 3. Please join in and share yours...