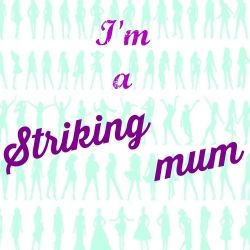 I have decided to join in with Kate On Thin Ice's Striking Mums group to help motivate me to improve my life and my children's lives! Each week she is giving us prompts to ponder on. Here I go with this week's ones:
Are you match fit as a mum?
Well having stood on the scales on the last day of the school holiday I would have to say no! I need to lose a fair amount of weight to be healthier and to be able to keep up with the children.. My running took a major back seat during the school holidays and it is showing in my weight..
So now we are back in routine (although its a new one for me) I need to get running again on a regular basis. I also need to take more care about what I am eating and drinking to help shift the extra pounds.
Luckily I am up to date with all the health checks that I qualify for so its a case of just doing my best to get that healthy weight range. Its going to take planning and organisation but its all feasible.
Let's hope I can squeeze in more runs like this one around my training:
What baby step can you take towards your hopes and dreams this week?
Well I took a huge step and started my teacher training course. One week in and I am surviving so far. Its taken a long time to reach this point so I had better make the most of it...
Who can help you on your journey
I wouldn't be able to do the training without a huge amount of help from my parents and other local family. Having people around to share the load when it comes to school runs and even over night stays is worth its weight in gold. So grateful that my family are fully behind me on this big step.
Hope other mums join in and support each other.