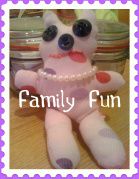 Welcome to week 7 of the Family Fun blog hop. For more details please read the launch page. In the words of a classic 1970s children's TV programme this is about switching off the television and doing something more useful instead!
It has been the Easter weekend so I'd love you to share what your family has been getting up to! We have had quite an exciting weekend as we took pass the first Kendal Passion Play for 400 years. An amazing experience to be involved in this street theatre project. I wrote about the first part on Friday and the finale is on the official blog.
Yesterday as a reward for my children I dug out our National Trust member card, paid this year's fees and headed off to Sizergh Castle for our now annual NT Easter Egg hunt. Last year we did the same thing but it different weather.
The event is so popular that we had to park in the overflow car park and there were lots of families on the site. After collecting our sheets and pens the children hurtled off to find clue 1 with the aim of completing the search as quickly as possible. They barely left me time to capture photographs of some of the beautiful sights in the gardens: